It's Time for a brand new Record Label
Looplife Records is a Berlin-based, non-profit record label for instrumental hip hop music. With our curated releases we bring together music and art for causes we believe in.  By simply enjoying our music, you're supporting various great charities around the world. So add our tracks to your playlist or follow the Looplife Playlist!
50% of all streams, vinyl and merch profits are donated to charities worldwide!
Charity Producer Challenge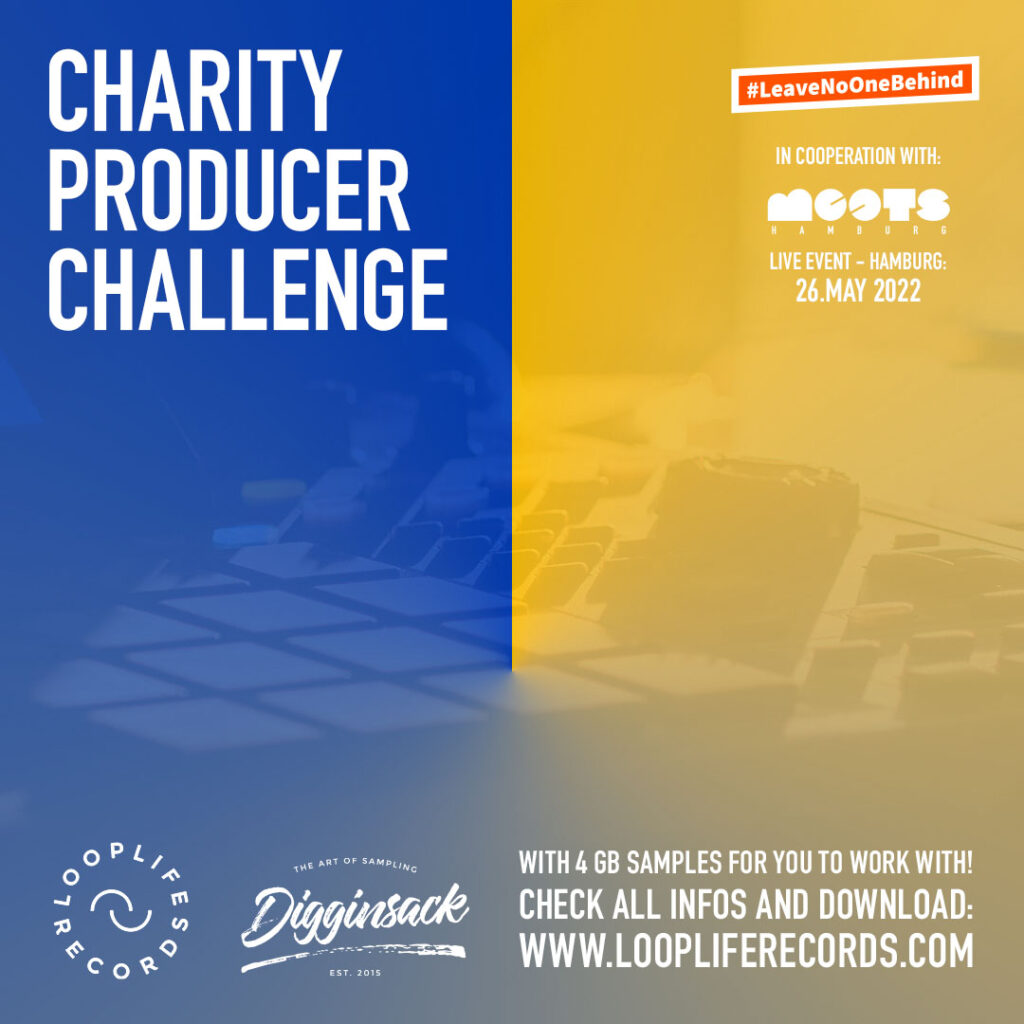 ENG:
New beginnings. As part of the first "Beats – Beatmeets Hamburg" event, Looplife  is hosting a "Charity Producer Challenge" in cooperation with the long standing producer platform "Digginsack – The Art of Sampling". 
We've prepared a huge sample pack full of soul, funk, jazz & classical samples by Ukrainian artists. To participate in the beat challenge, all you have to do is make use of one or more of the samples when creating your beat, or beats, and submit your composition(s) to us in due time. 
We'll pick the best of the best to be presented exclusively at the first "Beats – Beatmeets Hamburg" event on May 26, 2022. Afterwards, they will be released via Looplife Records.
 In this particular case, 100% of the proceeds will be donated to Leave No One Behind to support Ukraine.
DE:
Im Rahmen der ersten Veranstaltung "Beats – Beatmeets Hamburg" veranstaltet Looplife in Kooperation mit der langjährigen Produzentenplattform "Digginsack – The Art of Sampling" eine "Charity Producer Challenge".
Wir haben ein riesiges Sample-Paket voller Soul-, Funk-, Jazz- und Klassik-Samples von ukrainischen Künstlern vorbereitet. Um an der Beat-Challenge teilzunehmen, müsst ihr lediglich eines oder mehrere der Samples für eure Beats verwenden und eure Werke rechtzeitig bei uns einreichen.
Wir wählen die Besten der Besten aus, die exklusiv beim ersten "Beats – Beatmeets Hamburg"-Event am 26. Mai 2022 präsentiert werden. Anschließend werden sie über Looplife Records veröffentlicht. In diesem speziellen Fall werden 100 % des Erlöses an Leave No One Behind gespendet, um die Ukraine zu unterstützen.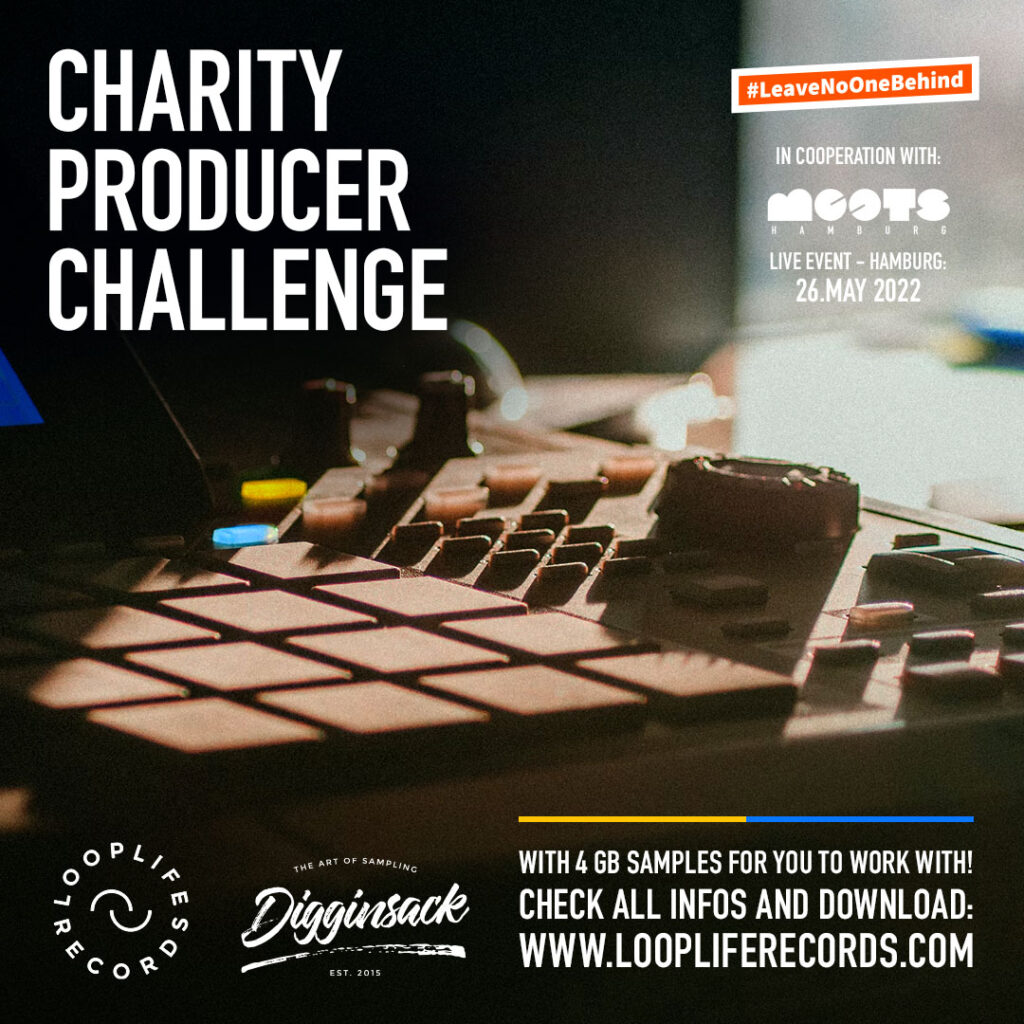 NEW DEADLINE:
May 22th, 2022 / 11:59 pm
Length of your beat:
02:30 max.
Format: 
.WAV via web-link (Dropbox, GoogleDrive)
E-Mail: contact@loopliferecords.com
Sample Pack (4GB) :
Good Music for Good Causes
Looplife Records combines instrumental Hip Hop Music, Art and Charity. From chilled boombap to lo-fi hip hop, future soul and trap soul, we bring you great music and try to make this world a better place. We offer every listener, worldwide, the opportunity to effortlessly donate money to charitable organizations while listening to music. Looplife also seeks to support and promote the musicians, illustrators and other artists involved, with part of the profit allocated to them. 
"With this label I want to give something back to society. I want to release the music I love for so many years now, while using my privileges of being european to support people who really need it. I'm sure there are many people who want to contribute to good causes. By listening to our music, it's very easy to do that! You can donate every day, without registering anywhere, without making a distinction … just by listening to good music while having breakfast, traveling by train, working at the office or having a barbecue in the park! For updates about our releases and our work follow Looplife Records on social media" –  Sebastian Vieweger aka Acoustic View (Founder of Looplife Records & the Digginsack Beat Battle Platform)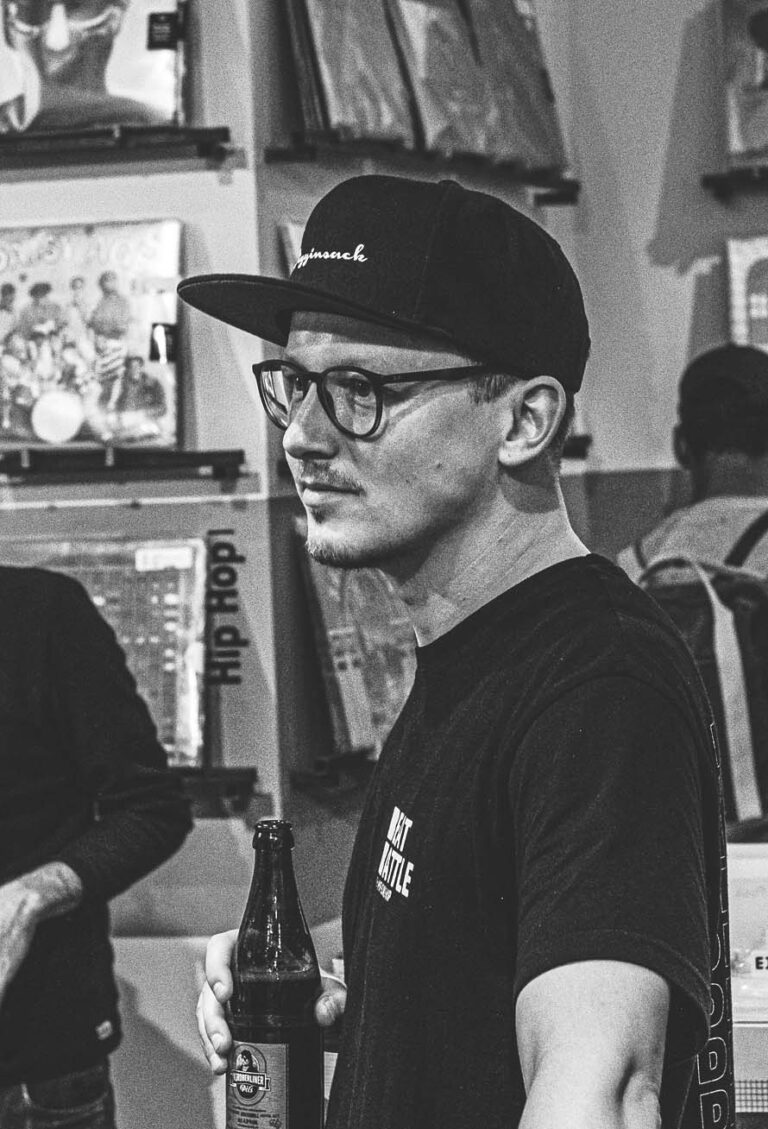 Charity selection 2021 / 2022
2021 is the first year for Looplife Records. So our learning process to support charity by music has started. While we have a lot to learn, one thing is fixed: Every year Looplife Records will donate 50% of its profits to charitable organizations. Depending on the amount of profit that's generated, we will support one or more of these charities: